An Antonov 2T biplane was damaged when it impacted trees while on approach to Olsztyn/Dajtki Airport, Poland.
The airplane had dropped skydivers and was approaching the airfield when it crashed into a forest, 200 meters before the runway threshold. The two pilots were injured.
The circumstances conducive to the occurrence of events (translated from Polish):
1. Lack of monitoring of the fuel tanks by the commander.
2. The lack of crew coordination (CRM).
3. Lack of a distinguished reaction from the crew when the lights illuminated showing a lack of fuel.
| | |
| --- | --- |
| Investigating agency: | SCAAI Poland |
| Status: | Investigation completed |
| Duration: | 117 days (4 months) |
| Accident number: | 805/14 |
| Download report: | Final report |
| Language: | Polish |
Fuel exhaustion
Forced landing outside airport
»
wm.pl
Video, social media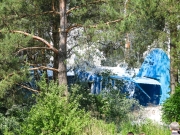 Map
This information is not presented as the Flight Safety Foundation or the Aviation Safety Network's opinion as to the cause of the accident. It is preliminary and is based on the facts as they are known at this time.
languages:
Share
Antonov An-2
»
safety profile
Poland
The Aviation Safety Network is an exclusive service provided by: