ASN Wikibase Occurrence # 210311
Last updated: 30 July 2020
| | |
| --- | --- |
| Date: | 01-MAY-2018 |
| Time: | 17:45 |
| Type: | JMB Aircraft VL-3 Evolution |
| Owner/operator: | Private |
| Registration: | SP-SATM |
| C/n / msn: | 235 |
| Fatalities: | Fatalities: 1 / Occupants: 1 |
| Other fatalities: | 0 |
| Aircraft damage: | Written off (damaged beyond repair) |
| Category: | Accident |
| Location: | Kołbiel-Skorup, Celestynów, Otwock County, Masovian Voivodeship - Poland |
| Phase: | Approach |
| Nature: | Private |
| Departure airport: | Nadolna k/Nieborów Airfield |
| Destination airport: | Kolbiel-Skorupy airfield |
| Investigating agency: | SCAAI Poland |
The VL-3 ultralight entered a spin when turning to finals and crashed in a forest, killing the pilot. The aircraft burned out.


"The cause of the accident was a mistake in the piloting technique of pulling the plane in a low height turn in the landing configuration.
Factors were:
1. flight in a turn with a slip to the right wing;
2. construction of an unusual landing manoeuvre requiring energetic control of the aircraft in landing configuration;
3. the pilot was operating with a delay due to an arranged meeting.
https://skrzydla.org/photo-JMB-Aircraft-VL3-Evolution-186012
http://wiadomosci.gazeta.pl/wiadomosci/7,114883,23345809,niewielki-samolot-rozbil-sie-niedaleko-celestynowa-upadku-nie.html
https://dlapilota.pl/wiadomosci/pkbwl/raport-wstepny-pkbwl-dotyczacy-wypadku-samolotu-ultralekkiego-vl-3-evolution
https://pkbwl.gov.pl/images/raporty/Raport_Ko%C5%84cowy_1018_18.pdf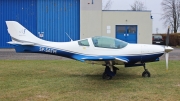 | Date/time | Contributor | Updates |
| --- | --- | --- |
| 01-May-2018 19:51 | rubi | Added |
| 01-May-2018 19:52 | harro | Updated [Aircraft type, Source, Narrative] |
| 01-May-2018 19:55 | harro | Updated [Aircraft type, Embed code, Damage] |
| 01-May-2018 19:57 | harro | Updated [Photo, ] |
| 01-May-2018 21:57 | Geno | Updated [Time, Cn, Location] |
| 12-May-2019 09:17 | Anon. | Updated [Narrative] |
| 12-May-2019 09:18 | harro | Updated [Source, Narrative] |
| 31-Mar-2020 06:50 | Bingo | Updated [Source] |
| 31-Mar-2020 06:56 | harro | Updated [Phase, Nature, Departure airport, Destination airport, Narrative] |
| 31-Mar-2020 06:56 | harro | Updated [Source, Accident report, ] |