ASN Wikibase Occurrence # 56495
This information is added by users of ASN. Neither ASN nor the Flight Safety Foundation are responsible for the completeness or correctness of this information. If you feel this information is incomplete or incorrect, you can
submit corrected information
.
| | |
| --- | --- |
| Date: | 08-OCT-1976 |
| Time: | |
| Type: | Folland Gnat T.1 |
| Owner/operator: | 4 FTS Royal Air Force (4 FTS RAF) |
| Registration: | XR996 |
| MSN: | FL590 |
| Fatalities: | Fatalities: 2 / Occupants: 2 |
| Other fatalities: | 0 |
| Aircraft damage: | Written off (damaged beyond repair) |
| Location: | near RAF stn Shawbury, Shropshire - United Kingdom |
| Phase: | Approach |
| Nature: | Military |
| Departure airport: | RAF Valley, Anglesey |
| Destination airport: | RAF Shawbury, Shropshire |
| Confidence Rating: | Information is only available from news, social media or unofficial sources |
Crashed while on approach to Shawbury, Shropshire. Both crew were killed

I had flown this aircraft at 8am the same day. The sortie profile was to familiarise students with the primary diversion from Anglesey. It was flown later in the morning by John Grzybowski who had in the front Ashley Smart ,a good student . The Gnat was not to be manoeuvred in a tight turn when it was heavy. John had not flown swept wing aircraft previously. He demonstrated to the student a circuit which was not part of the syllabus. There was a mild tightening crosswind on finals. John over-banked and had no concept or appreciation of what was happening. He should have immediately gone to full power but instead he tried to fly the aircraft out of the sink with fatal consequences. Two days later I gave evidence at the Board of Inquiry as the pilot who had flown the aircraft on the previous sortie. The President with respect was understandably not interested in the shortcomings of John who had himself been a victim of the flawed theory that to take a piston engine pilot to being a fast jet pilot all you had to do was make him a flying instructor.All those who were in a position to recognise John was spending 95% of his time flying the aircraft with little or no capacity to instruct failed him ,Ashley Smart and their respective families.
1. I was there
2.
http://www.ukserials.com/losses-1976.htm
3.
http://www.rafcommands.com/forum/showthread.php?1273-Post-war-crash-information&p=6652#post6652
4.
http://www.forcesmemorial.org.uk/roll-of-honour/roll-of-honour-profile.asp?profile=90809
Gnat T.1 XR996 when with the "Red Arrows" in June 1968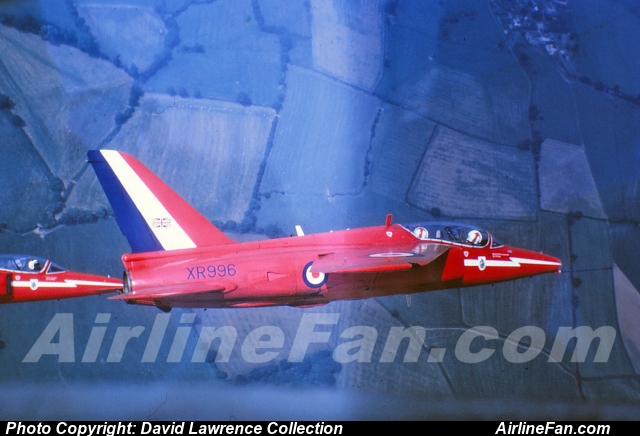 | Date/time | Contributor | Updates |
| --- | --- | --- |
| 16-Jul-2011 12:04 | Dr.John Smith | Updated [Cn, Operator, Total fatalities, Total occupants, Other fatalities, Location, Country, Phase, Departure airport, Destination airport, Source, Narrative] |
| 27-Jun-2012 13:13 | ray pilley | Updated [Source, Narrative] |
| 06-Jan-2013 14:49 | Nepa | Updated [Operator, Location, Narrative] |
| 22-Jun-2013 20:17 | Dr. John Smith | Updated [Location, Source, Embed code, Narrative] |
| 05-Sep-2014 05:34 | oldnav | Updated [Narrative] |
The Aviation Safety Network is an exclusive service provided by: